Recalibrate your mind Retreat encourages women to focus on progress and healing not perfection. This is a five night experience full of powerful, yet practical tools and practices to support women to adapt a greater awareness of the power of both their conscious and subconscious minds.
This Retreat is designed to teach the relationship between the mind and different parts of the ego and Spirit Self. The intention for you is that you come away from this with a profoundly deep and extensive understanding of how your limiting beliefs may be affecting your health in different ways as well as the way you experience life. Throughout the five days together, I will be supporting you on your journey to enhanced mental, spiritual and emotional wellbeing, through the transformational teachings of the subconscious mind and energy field led and facilitated by myself and the High Council of Nine.
This work is quickly gaining momentum with alot of incredible feedback being received by women who have personally experienced this work in the past six months.

It is my desire to create a full, immersive weekend experience for women where they have the space, guidance and support to grow and to shift from a mindset of limitation to one of limitlessness and potentiality.
JOIN US IN PARADISE!
The June 2023 Retreat will be held in the beautiful Coopers Beach, Northland.
You will spend five nights with us inside of this spacious 333sqm beachfront home.
The front garden meets with the golden sand of Coopers Beach. A stand of 6 mature Pohutukawa trees lean right out over the sand and provide a degree of privacy and infinitely adjustable sunbathing shade.
There are three lounges, five bathrooms, skylights, a private balcony with sea views an outdoor courtyard and direct access to Coopers Beach itself.
This five day experience includes all meals, all retreat activities, all individual wellness sessions including being treated to a full body aromatherapy massage, by a visiting therapist, a relaxing reflexology experience and reiki healing sessions all within the upper loft space, which will be used as a hub for nourishing self care practices, as well as a quiet place to hibernate when needed.
GROUP SESSIONS:
A wealth of new information awaits you. Expand your mind through a variety of topics including the important relationship between the conscious and subconscious mind, the formation of your lightbody and souls mission here, how the ego operates.
You will be taught powerful techniques to access your thought processes, to witness your limiting beliefs playing out and practical steps to rewire these beliefs in real time. Through practice of these sacred tools, you will experience embodiment of a higher level of awareness around your triggers and how to navigate various challenges that may show up in your life.
FOOD & DINING:
Your body will be nourished by fresh, wholesome and tasty meals the entire five days.
Your options will be plentiful when it comes to fueling your vessel and indulging your senses.
HEALING:
You will take part in various group energy healings, including Quantum Healings and intuitive body scans throughout the week.
SELF CARE:
We want you to be able to decompress throughout this massive week of new growth and transformation, so you will spend sometime relaxing and unwinding with a full body aromatherapy massage from a fully qualified Masseuse as well as receiving an individual energy healing session with a holistic energy practitioner.
MOVEMENT:
Movement is medicine and a fundamental piece of this retreat. Every morning, you can be expect to be guided through a conscious movement session inside the retreat space, or outside (weather permitting) to step out of your mind and into your body, beginning each day feeling grounded and present inside of your vessel.
INDIVIDUAL SUBCONSCIOUS REWIRING SESSIONS
For those who are really pulled to explore the depths of their mind, you can expect to receive the opportunity to have an individual session with Jasmine, where she will tune into what your inner landscape is holding and wanting to release.
This is most definitely the highlight for many people who attend these extended experiences with Jasmine. It is likely that past life memories, present life trauma and suppressed feelings will surface.
We will talk through whatever limitations you are experiencing and the Council of Nine will take us deep into the mental and emotional plane of your body, to help release and transmute the FOUNDATION beliefs that no longer serve you. It is through this, that we will work to recalibrate the beliefs into something that serves your purpose and mission here.
The remainder of the group will hold space for you and witness these powerful transformations take place in real time.
The 1:1 work is truly an incredibly powerful paradigm shift and it comes highly recommended by everyone who experiences it.
This is not a service that is offered outside of the subconscious retreat.
Tui Suite (sold out)
Enjoy your stay with your own comfortable room, including your own ensuite bathroom and double doors which open directly out onto an enclosed outdoor courtyard.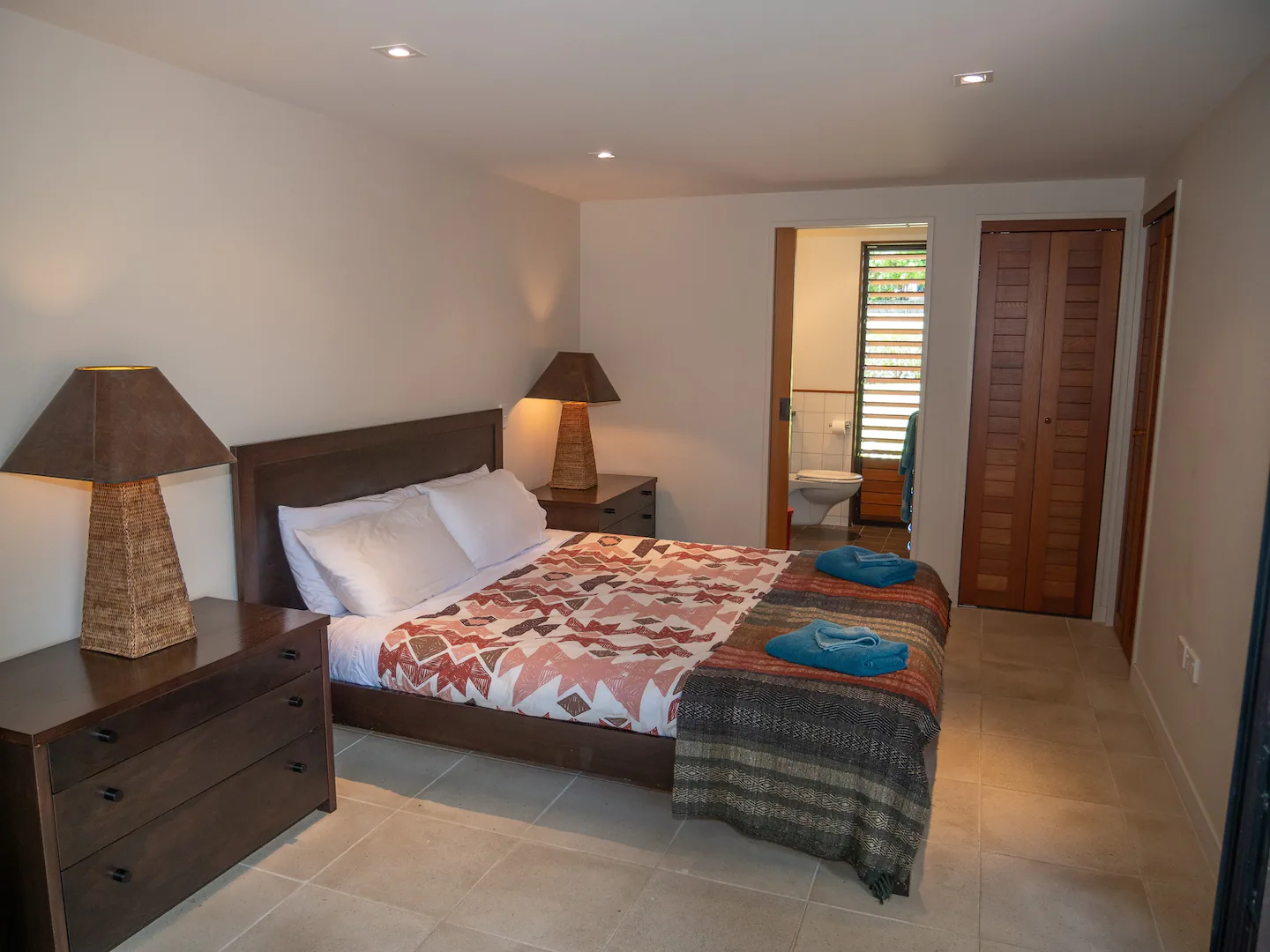 Kiwi Suite (Sold out!)
Enjoy full privacy and peace, the full five nights of your stay with your own comfortable room, including a ensuite bathroom and doors that open onto an enclosed outdoor courtyard.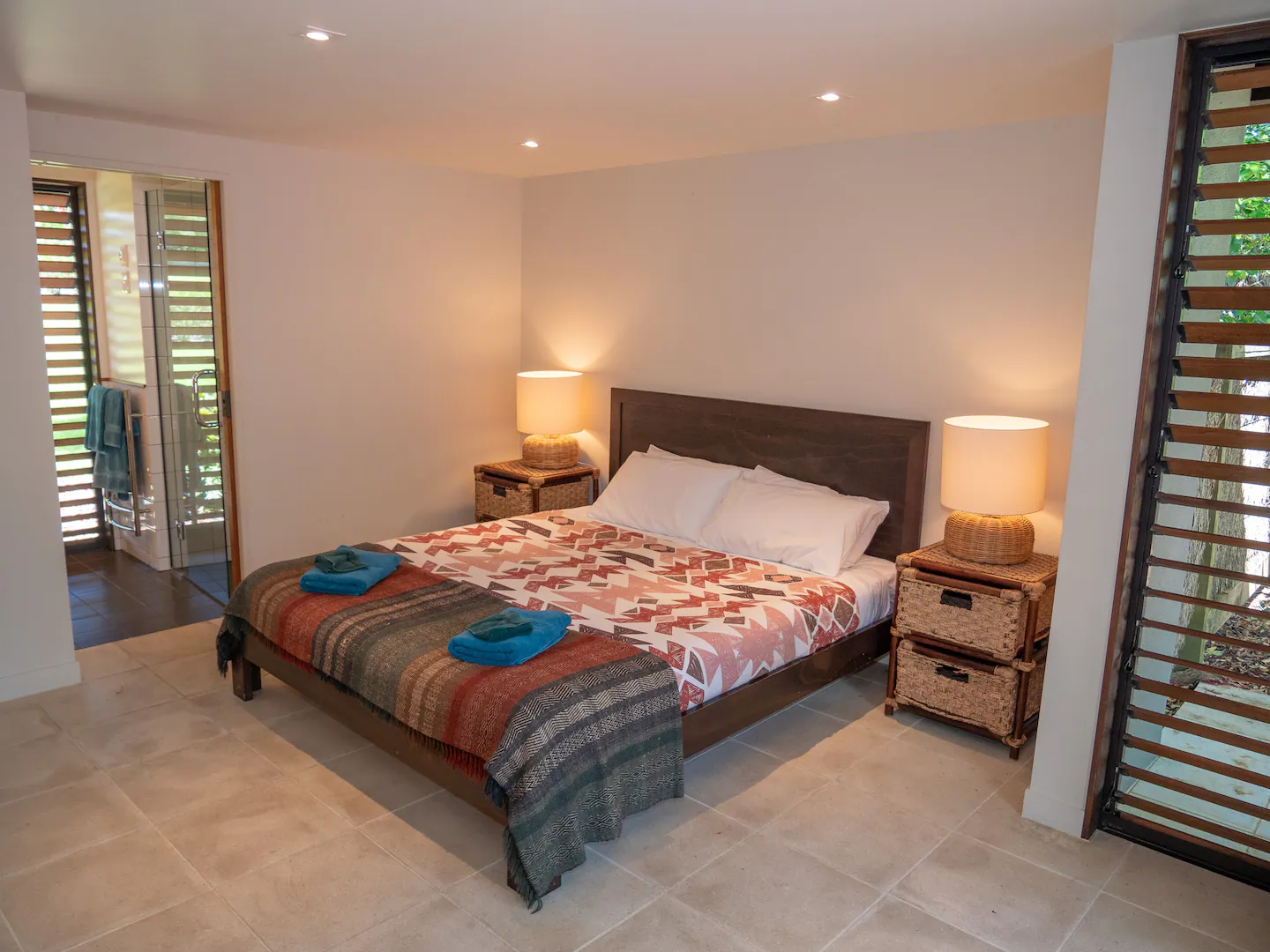 Kingfisher Suite
Your own private room with a large comfortable bed, ensuite bathroom and view looking down upon the outdoor courtyard and trees.
Kakapo Shared Suite
This twin share room on the ground floor level, opens straight out onto the lawn and to the golden beach just beyond the gorgeous standing pohutakawa trees. This room has its own large bathroom including a bath tub with windows that open up to absorb the sea view.
Please note: the beds are further apart then shown in photo.
Pukeko Bunk Room
Bunk in and have a sleepover with your sisters! This is a fun option for the budget! The skylights open up for a great view of the cosmos and it has direct access to an upstairs bathroom suite.
There is ample storage beneath each bed for your personal belongings.
Please note: If booked individually, this will only be a twin share room. However, if you and two friends would like to book this room and all stay together, then you will receive a $200 discount each, when booking online together.
REGISTER YOUR INTEREST HERE!
Drop your details below to automatically be sent an email with price details and dates.
We promise to keep your contact information safe.